My secret pal is the sweetest! She hinted at who she was (shouldn't do that with me), and although I thought she was Rebecca because of the cow picture (and Rebecca recently met a cow up close) I thought it was her. You can read about it here at
Ewe Devil
. I am sure Rebecca thinks I am a nut case by now with my comment on her blog. Sorry Rebecca!
I now think I know who it is, but I won't let on (Little cow). I did post to her blog however, and hope I got her right. If you are reading this I want you to know you are a sweetie, whoever you are! Here is the great package that my pal sent to me a few weeks ago. Like I said in previous posts, I have been really late with downloading pictures (bad me). Here are my presents: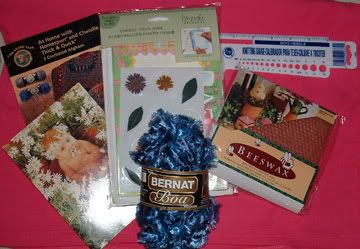 My pal sent me some patterns, a beeswax candle making kit (love it), a photo frame making kit (love it), a knitter's gauge (which I will use for the ruler purpose for now), some yummy Bernat Boa (love it, and the color), and a beautiful card to say hi.
Thank you Secret Pal you really did make my day! I love these swaps, they make you feel special.